Champions of "golden jubilee cup" U – 16 and an inter-school football tournament, Trivandrum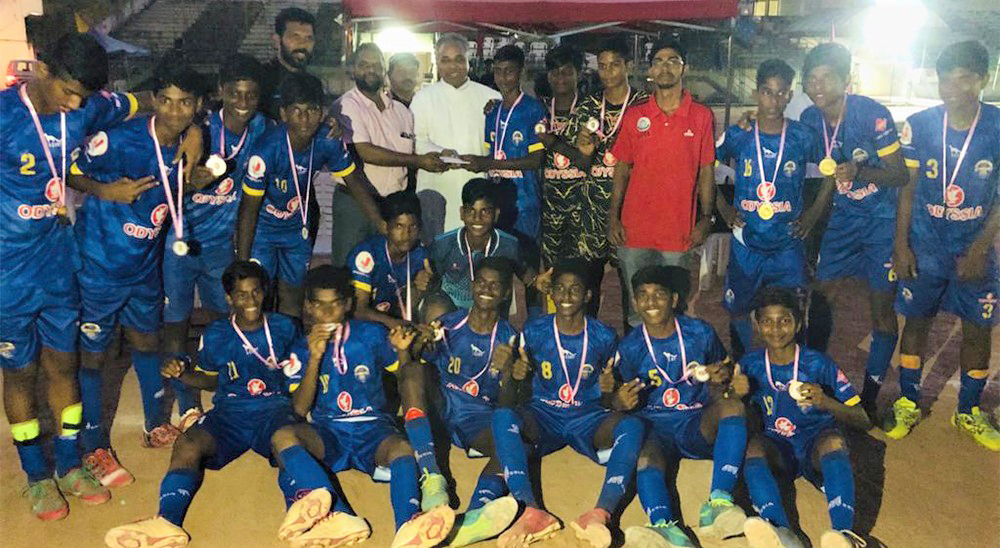 As part of celebrating the golden jubilee of the priesthood, His Grace Most Rev. Dr M Soosapakiam, Archbishop of Latin Archdiocese of Thiruvananthapuram. The management of RC Schools has organized a football tournament between the schools under the corporate management of the Archdiocese of Thiruvananthapuram. St. Joseph's Higher Secondary School in Senior section, and the junior section St. Vincent's High School Kaniyapuram also emerged the first Championship. The tournament was organized by the Guild, a teachers' organization under the management of RC School, Thiruvananthapuram in two days (January 9th and 10th) at Kerala University Stadium. 
Devaswom Minister Sri Kadakampally Surendran inaugurated the function and honoured the tournament which consisted of 12 teams each. With the establishment of the LIFFA Football Academy, which was started under the Archdiocese of Thiruvananthapuram, many football players have been able to enter the mainstream of the Indian Football and have the opportunity to perform at the higher level. With that in mind, the Rev. Fr. Father Dyson Yesudas, who led a successful basketball academy at St. Joseph Higher Secondary School last year. The Latin Archdiocese of Thiruvananthapuram is planning to focus on athletics along with football and basketball in the coming years. 
Speaking at the valedictory function, Rev. Fr. Dr Dyson, the Corporate Manager, said, "At the beginning of the next academic year, we have started an athletic championship, and we are in the process of identifying the most talented children in the field and providing them with the proper scientific training and education." Kerala University Physical Director Jayaraj David bagged the prize. Winners have received individual medals and Rs 10,000/- and the second runners-up were awarded individual medals and Rs 5,000/-. Tournament Convener Shri Raju Luke thanked all the teams who participated in the tournament as well as all the members of the Guild, the school teachers organization under RC Management, who organized the tournament successfully.