Champions of nexus cup all Kerala inter school football tournament – 2019
St. Joseph's School won the All Kerala Nexus Cup. The Nexus Cup was an All Kerala Invitation football tournament organized by Mar Baselios College of Engineering And Technology and LNCPE together at the LNCPE ground as part of promoting "Sports Engineering". The tournament saw teams from all over Kerala fighting fiercely for the title. LiFFA won the final against GHSS Panampally Nagar via tie breaker after the goalless regulation time.
St. Joseph's HSS (LiFFA) was the favourite heading into the final of the 2019 NEXUS CUP but GHSS Panampally Nagar put a good fight in final game. We had also won all the three games in its way to the finals. The first half kicked off to a lively game as both the teams put up a great show for the fans.The mid field was set on fire by LiFFA's Anittan and Saivin who kept feeding their forwards Bexon and Sharanwho haunted the GHSS Panampally Nagar's defence with their pace and combination play. But the Panampally lads were not to be fazed easily.
The second half of the match was started at a furious pace with LiFFA dominating possession in the opening exchanges of the encounter and created better chances; at least three times we broke the Panampally's off side trap but LiFFA boys were unable to capitalise on the opportunities. Thereafter, both sides engaged in end to end battle but couldn't break the deadlock as game progressed to the final whistle. The teams even failed to score goals, the winner were decided via tie breaker. The final kick of the GHSS Panampally Nagar was punched by the LiFFA's first Indian International Goal Keeper Shikku Sunil with the lengthy dive to his left side helped to the first All Kerala inter school competition for NEXUS CUP.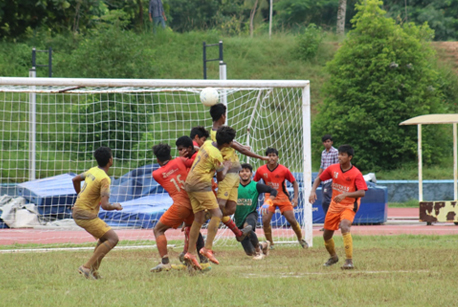 Tony Antony trying to score from a corner kick against GHSS Panampally Nagar, Ernakulam in final