Champions of somatheeram liFFa cup 2019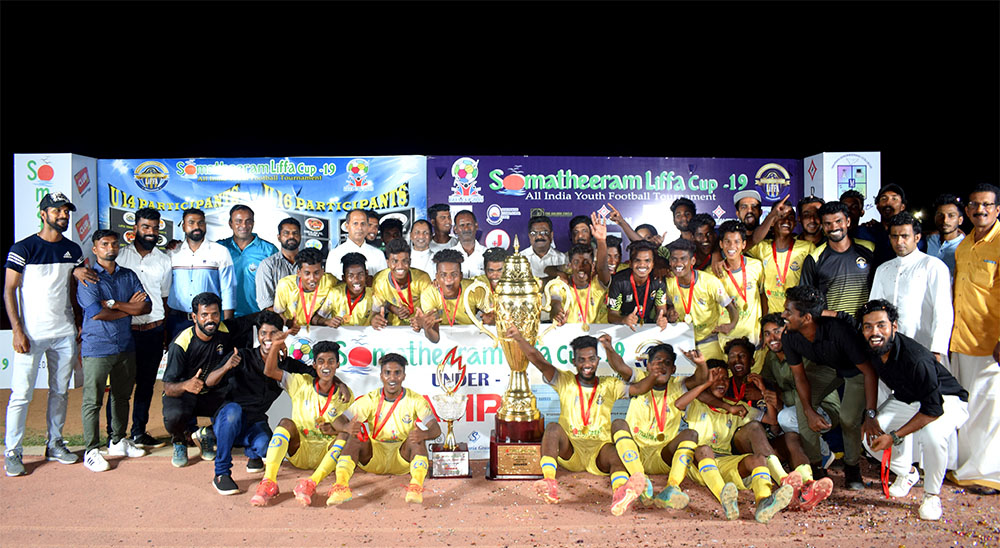 LiFFA players are quickly becoming the hotbed for the next generation of India's footballing talent. The SecondEdition of Somatheeram LiFFA CUP is the first tournament of this season2019-20. The championship was the best beginning of LiFFA could have asked for, setting the tone for the 2019-20 season really high, for well began is half done. Beating the best teams from all over India in start of the season has definitely boosted the morale. And alsoour players have won the best player awards in all positions.
LiFFA CUP is one of India's largest and most successful youth football tournaments. LiFFA CUP was first held in 2017. The tournament was started by the LiFFA Trivandrum, to provide the opportunity for young talented players from across the country to perform. Through this LiFFA CUP, almost thousands of players from all over India have participated in the tournament. This year, around 40 teams from all over India participated in this mega event. Both the U-14 and the U-16 teams outshined every other team in the tournament, astonishing everyone with their beautiful moves, imposing physique and game intelligence. The U-14 team played the final against Jeppiaar Chennai and won the match with the scoreline of 2-0, while the U-16 team repeated the same against RVSS Tamilnadu with the scorecard at 1-0.
LiFFA had also racked up almost all of the individual awards such as;
Shikku Sunil-Best Goalkeeper Award /U-16/
Sabarin Bush-Best Defender/U-16/
Anittan Antony-Player of the tournament/U-16/
Bexon Dilly Don -Best Forward Award /U-16/
EbindasYesudasan-Player of the tournament, Top scorer/U-14/
Vinu Wilfred-Best Defender Award /U-14/
Bijo Johnson-Best Forward Award /U-14/
Sanu Joseph-Emerging Player Award/U-14/
Jobin T. – Best Midfielder Award / U-14/