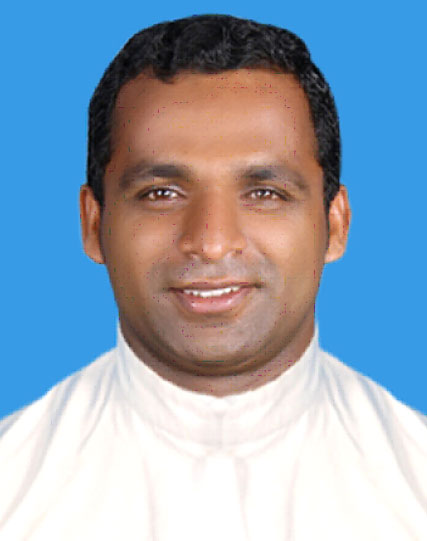 Rev. Fr. JEROME AMIRTHAYYAN MCL.
Latin Archdiocese of Trivandrum
Fr. Jerome Amirthayyan, the first Asst. Director of LiFFA Trivandrum, was born on 24th Nov, 1980 at one of the beautiful coastal region Vallavilai. This place possesses an unquenchable thirst and wild craving for football. Soon after his schooling at St. AloysiousSchool Marthandanthurai, he joined St. Vincent's minor seminary. He was an amiable phenomenon who makes everyone in tune with the pulse of the seminary. He did his philosophy and theology at St. Joseph's seminary, Mangalore and Mater Ecclesia seminary Rome respectively. He did his masters in canon law at the same university in Rome. Indeed these seminaries promotes the talented players in all the sports in the duly manner. He was an exuberant presence in all the fields of the seminary. He was ordained a priest on 22nd Aug 2012.
As a priest he served various parishes and institutions. At the very outset, he was appointed as the Asst. Parish priest of Vettucadu. From then on to hitherto he does his service as the tribunal at the family court of the diocese. Then he was posted as the Asst. Director of both the LiFFA and Boys Town CCI. He advised the students to play the healthy sports and stay brawny. At present, he serves as the parish priest of St. Catherine's Church Eraviputhenthurai.
LiFFA is the well appreciated football academy which made an indelible remark in the football world within a limited period. Being the first Asst. Director of LiFFA, he might have confronted many questions and challenges with regard to the objectives of Liffa and in creating a conducive environment for the sports academy. He always accompanied the students in the hostel in view of providing them a home away from home experience by rectifying the odds. In fact he challenges the players as the Olympic motto: Citius, Altius and Fortius (which means faster, higher and stronger) suggests to outshine in both the intellective, sportive and disciplinary orbits. He was the active member of LiFFA and gave inevitable corrections for the smooth-sailing of the academy. He welcomed all the initiatives and endeavours of the academy with positive and rational outlook.