Ebindas scored the solitary goal for India in U-16 National Team against LIWA FC in the international friendlies held at UAE.
India U-16 Beat Liwa FC 1-0 in a Friendly Match
India U-16 team won their first friendly match against Liwa FC during their stay in the United Arab Emirates (UAE).
The Blue Colt was to face their first match against Al Hamriyah FC on 15 January. Due to the Corona cases from the opponent team. Certainly, the match was cancelled. Four players of Hamriyah FC test Positive.
However Indian team Management organized a match on 18 January against Liwa FC.
The match started with the same level of intensity from both teams. Neither of the team managed to score a goal by halftime. After half time India took over the possession.
India took lead over Liwa FC in the 71st minute, Ebindas received the ball in the penalty area due to a defensive lapse from the opponent's defence. He made no mistake to slot the ball in the upper right corner.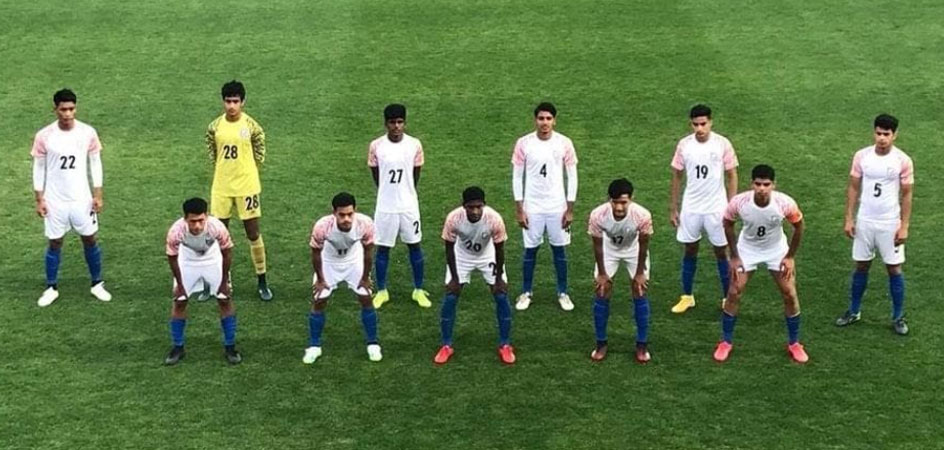 Ebin has been training under LiFFA Trivandrum since 2018, and on his International debut, he inspired India's under-16 side to the glory of India in a stunning 1-0 win over LIWA FC U-18 team and 4-2 win over Sharjah FC U-18 team.
It was a moment that underlined Ebindas possessing the best emerging talent in the country in his age category. Among all the names that have made an impact, Ebindas is the face of the next generation. Playing for the national team in an age category one year older than him is the biggest proof for this fact. This has made him cement his position as the key player in the next year's U-16 Indian Team too.
Bibiano Fernandez took a shine to Ebindas from the moment he arrived in the national camp, So as Ebindas now revels in his glory with India's young stars, we can reveal the inside story of how this next-generation star was unearthed.
So many of us spent those early school days in the playground, pretending we were going to be the next big thing. After he was selected into the LiFFA academy, that is exactly where Ebin's dream began to come true.
"When Ebindas came into the LiFFA, one of the first things that were noticeable was that no one could get the ball off him.
Keeping His Feet on the Ground
Having a gift is one thing, but making it into the national squad is something so much more difficult.
We have all heard stories of players who were great as kids but failed to fulfil their potential. Many end up sat on a pub bar stool, recounting the days when they were on the brink of stardom with anyone who will listen.
Ebindas has taken everything in his stride, though.
Ebindas began to become more recognised in Kerala state when he played in national championships held at Banglore and Kolkatta. His performance was outstanding, and he went on to score 5 goals in the deciding match.
LiFFA were crying out for a local lad to wear the national colour. Almost everyone is expecting Ebindas to be that player after Shikku had made his mark earlier. Technically, he has it all. Mentally, he's certainly on the right track too.
"He never makes a fuss and keeps it all to himself, and whenever he had scored goals, he rarely went into elaborate celebrations. He runs back to the halfway line almost always and waits eagerly for the next move with a smile on his face."
While Ebin's name may be new to football lovers nationally, this moment in the spotlight comes as no surprise to those closest to him. 
"Some players are just born with a gift, and he is one of those players."