KFA Academy League (U-14) 2019-2020
LiFFA beat MUTHOOT FA 3-2 in thrilling comeback
As everyone knows, foolball is football except today's match referees. After winning the three points get away from them in Ambedkar Stadium against Muthoot FA and Referees, LiFFA Trivandrum continued back to back win against Muthoot FA.
The game couldn't have been started any worse for LiFFA, after just a few minutes played, Referees started their character and Muthoot got with corner from left side. 
Muthoot FA winger, who played a superb spinning -ball in to the penalty box, the forward who made no mistake with his finish as he coolly head past in to the goal net. LiFFA had press the restart button from the start of second half into the game, and started all out attacking football against Muthoot FA, Ernakulam.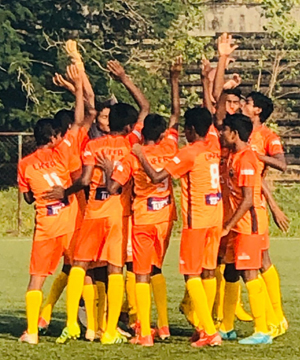 The early goal from Muthoot, instead of frustrating LiFFA's young warriors or making them lose their nerve of the pitch, revitalised them and LiFFA started to unleash their attacking football on both wings and to dominate possession in the midfield. Despite chances falling to Alan Saju and Jireesh on their respective flanks, they weren't able to put Muthoot Defenders and Goal Keeper under a huge amount of pressure inside the penalty area. LiFFA's forward Sanu Joseph equalized in the 59th minute before Ebindas struck in 73rd and 84th minutes as came from behind for a stunning 3-2 win over Muthoot FA at Ambedkar Stadium. However, a display filled with football, energy and the right effort led to LiFFA with 3-2 win in the end and took the 12 points from 4 win out 4 games in the KFA Academy League (U-14) 2019-2020 season so far.